INTERVIEW WITH SHAKEY FROM SHAKSTER RECORDS
Interview by Lauren John. First published on October 18 2009 at music.co.uk
What first got you interested in music?
"The first song I can remember is the Boomtown Rats "I Don't Like Mondays", back in the day when a magazine called Look-In used to have flexible 7″ singles on the cover sometimes. The first records I brought were Shakin' Stevens - "This Old House" & Chas & Dave (with the Spurs team) - "Ossie's Dream". Fair to say they made quite an impression as 28 years later my nickname is still Shakey & I still support Tottenham. I also remember & Chas & Dave at the Fort Regent Jersey being my first gig back in 1981."
What prized possessions do you have in your music collection?
"I do have many. I'm in a bit of a collector mania (laughs). It ranges from signed CDs from Guns N' Roses and Transvision Vamp (Wendy James), to set lists, drum sticks, a cymbal & around 90 signed flyers from my own gigs. But all 5 of the CDs I put together myself are pretty special to me. I did swap the 1st CD for Slash & Duffs picks at the Whiskey-Go-Go, don't get much better than that!"
What do you enjoy doing outside of music?
"As I said above I'm a Spurs fan and always liked football, still have a season ticket but music does come first nowadays. I love going on holiday to the States(USA) my favourite place is L.A. Staying on the Sunset Strip, meeting up with friends from previous visits, while making new friends. Same applies with NYC, around the East Lower, St Marks area. It's so much more relaxed in the States, & people don't look at people on their own as strange, instead they talk & make them feel comfortable. Of course its nice going out with friends, getting drunk, looking for Mrs right, she must be somewhere LOL. But mostly my life is taken up with music nowadays."
How did you first get interested in music promotions?
"It kind of happened by pure luck. I bumped into a couple of blokes (Dan & Brown) in the Bassment Club (Chelmsford), started talking about Guns N' Roses & music, next thing I know I'm invited to see their band play - The Stunts. Around the same time I was going to loads of gigs & making lots of new friends around the Bassment scene (The Brights, The White Gospel, Bitterscene etc), next thing, I was asked if I'd like to manage The Stunts. Not wanting to leave my other new friends out, I started Shakster Records. While trying to book gigs for The Stunts I was shocked at just how bad bands are treated by most venues and promoters (if the promoter even turns up); trying to get a gig in London seemed to be worse still. I did not like what I was seeing, so I guess that planted the seed. I knew the bands deserved better, and maybe just maybe, I could get involved."
What do you see as the music promoters role? Do you think anyone can do it?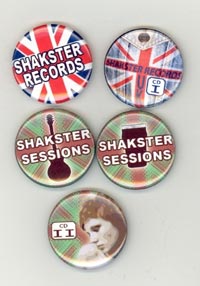 "As a promoter I see my role as finding a venue, getting a date, booking the bands, sorting out all the bands needs from the minute they confirm, promoting the gig as much as I can via Facebook, MySpace, local press etc. Trouble is nowadays with 100s of people on the likes of Facebook, people get on average 3 event invites a day so either block you, click yes or no to every one they get, or just remove the event. The last thing I want to do is annoy people with too many invites to my gigs etc. But there is no easy solution if you're on a budget like myself. I can't afford to put an ad in magazines, and in the past owe some of them a lot for even listing my gigs in their guides. The thing is I can only do so much, and really think it's time all bands also promote every gig they play, regardless if it's a small pub or Wembley Stadium. By working together people should come and support the night. My job does not stop there. On the day I like to meet them when they arrive, introduce them & thank them after they finish their set.
"I'm not sure anyone can be a promoter. Like in everything you always get good people, who like me just love music and do it for the right reasons. You then get the bad, maybe they don't rip the bands off, but at the same time do little to promote them. Then there's promoters who should crawl back under the stones they appeared from, who have no interest in the bands. They just want to get as much money as possible and don't care who they rip off to get it."
Any special story behind your promoter/gig night names?
"For around 20 years now I've had the nickname Shakey, so it made sense to call my label/promotion company Shakster Records. As for my nights, they started as Shakster Sessions, then Shakster Festival, then Friday Night Live, Saturday Sessions, Chelmsford Rocks Out, ALL hosted by Shakster Records. Presently also using Shakster RNR Riots. I'm very proud of my nights, so like to always include Shakster Records in the night's name. I'd like to think people see the name and know they're going to get to see some great bands."
What is your own personal background in music promotion?
"My promotion background started with The Stunts as I said above. July 2007, the first thing I did as Shakster Records was put together a 17 track CD with my mates and other Chelmsford bands on. I took this to LA and gave it out, promoting the Essex scene in LA (that's when I got the Slash, Duff picks).When I came back I saw an advert in The Essex Chronicle for bands to play at Seabrights Beer Festival. Being just round the corner from me, I drove round with the CD and talked myself into my first gig, "A 3 Day Music Festival", with 17 bands playing. It was amazing. Then in November 2007 I did CD 2, and went back to LA, and did the same again. I had a couple of great gigs at The Fleece in Chelmsford early 2008. Then the owners of Seabrights invited me to start doing the music at their new pub The Two Brewers, Springfield Road, Chelmsford. This was great, and started during the Panic In The Streets Festival. I then continued doing every Friday till end October 2008, when I was asked to do Saturdays as well. Around the same time the owners wanted to do something with the function room, and suggested doing the music in there. After a few meetings it was decided it could be called Shakey's. We started in Dec 2008, and had the official opening New Year's Eve 2008. Things went really well for two months. I then got offered a chance to put band nights on at The Cramphorn Theatre, "Chelmsford Rocks Out". These nights were great, and only due to the economic climate got pulled. So we moved the night to The Fleece were I also started doing every Thursday night, which I'm still doing now."
From your point of view what are the good points and bad points?
"Good points are 2 & a half yrs ago I was going out paying to watch bands play. Now I choose the bands and run the nights! I've made a whole new group of friends through this, and now have the honour of saying "I work in music" when asked by people what I do. It's really that cool for me. Bad Points: the lack of money that is put into live music at this level. I have many local bands who play my nights, but I cant afford to pay. Other bad points are the promoters who do rip the bands of with the pay to play deals etc."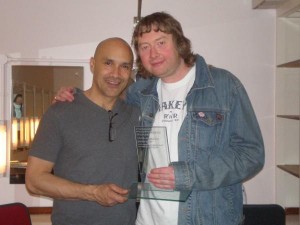 Do you have a proudest moment?
"I've a few proud moments, from seeing my nights in the Go! or Panic Magazines (local press in Essex) to seeing people wearing a Shakster t-shirt, to winning the Best Promoter Award at this years Panic Awards (2009). I had one of my heroes from the 90s Dan Reed play one of my nights at the Cramphorn, to just being involved in the music scene."
Any favourite bands you've booked, that we should all check out?
"Bloom, The Brights, Redtrack, Sirens At Dawn (previously The Stunts), The White Gospel. They've all stuck by me from day one, are now all friends, and really doing well. The Library Suits have played for me more times then anyone else - 16 times in just over a year! Although from France, I consider Kings Of Conspiracy a local band, having played nearly 10 times for me now. I could go on for ages, as I've had so many good bands, but like I said above, Dan Reed, also Gringo Star (from Atlanta, Georgia) to young new bands like Closure who I've watched grow over the last couple of years. It's great! I'm hoping to put together a list of all the bands who have played my nights at some point."
What would your ultimate band/DJ line-up be for a gig?
"Guns N' Roses, Transvision Vamp, Starsailor, Razorlight, Rolling Stones, Gringo Star the list is endless. Local-wise again, Redtrack, Sirens at Dawn, The White Gospel, The Brights, Bloom, Library Suits, Aluminium Risk, Kings of Conspiracy, London Blackmarket, The Ruskins, Bo Ningen, No Cars. The list is endless! I'm not a big DJ fan, but love it when my mates from Supersonic DJ, or any of my mates who guest DJ for my nights. It's great to have your mates involved in your nights."
What can we look forward to for the rest of 2009 and into 2010?
"The end of 2009 is a very busy time for me. As well as every Thursday night at The Golden Fleece, I've got a great Chelmsford Rocks Out "Punk Special" with local '80s punk band Anorexia (now known as Nervosa Rex), Wonk Unit, Zoo Party (from Sweden, just supported the Sex Pistols Experience), Los Saladores (supported Supergrass and Proclaimers this year, think the Levellers). I've also booked ex-Hawkwind bassist Alan Davey's band, Gunslinger, for my last gig of the year at The Fleece on Dec 19th. I'm also putting on 2 great nights at Barhouse (Chelmsford, now called Hooga) - the first is on Wed Oct 28th with The Chelmsford Scooter Club, Tommy Atkins, The Loop (support band (from The Jamm), The Beat Four & Guest DJ Rob from The Jamm Tour. The other night, Wed Nov 11th, has playing live Honky Finger (one of the best one man bands in the country), with other bands tbc. On Fri Nov 20th, I have my first ever night at St Anne's Castle (Great Leighs) with Doll Set Tones, Osmium Guillotine, Liliths Army, and Lani Ford (a special guest all the way from NYC) who is the lead singer from Stark, and a Fox 5 TV reporter.
"As for 2010 I'm booked up for the SXSW Conference in March, so hope to have a new CD together. I'm also trying to sort out a showcase over there, which to be honest would be amazing. Back home there are a lot of exciting things in the pipeline, that have to stay under wraps until confirmed, all very exciting!"
If you could design the ultimate venue to hold a gig in, what would it be like?
"Strange you should bring this up, as looking to the future, I'm working on re-opening Shakey's. Not sure of the timescale, but it will be based on the original Shakey's at the Two Brewers, which itself was based on CBGBs in NYC, The Rainbow Bar & Grill, and The Cat Club in LA. Ideally it will be based in Chelmsford or somewhere else in Essex, at the same time could be in London, NYC or LA. Wherever it is, it will be ROCK 'N' ROLL!"
As you can see, Shakey is a man with a huge passion for music, and he is a veritable powerhouse in the local music scene in Chelmsford/Essex. If you'd like to find out more about him, and the events he runs, just search for Shakster Records UK on Facebook or Myspace."
ONLINE RESPONSES TO THIS INTERVIEW
"Shakey is the best and most well respected promoter in Essex and other promoters can only hope to be as successful and liked as he is. Not only does he attract local bands but he can command bands from across the country and from as far as the States. Anyone within drivable distance to Chelmsford should come and check out his nights and the bands playing for him. Fingers crossed for the new venue! Great interview!"
Tracey
"Shakey's a legend around the Chelmsford area. It's great to know there's still somebody around keeping the local music scene alive and supporting the many bands and artists struggling to find gigs anywhere now there's becoming less venues about.Our band; Osmium Guillotine (www.myspace.com/osmiumguillotine), has only been going a few months, but Shakey has supported us from day one by giving us slots at his nights, which we are very grateful for! Cheers."
James Balcombe - Osmium Guillotine